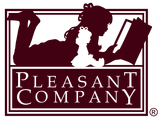 When American Girl was still Pleasant Company, before Mattel bought them out (and ruined them IMO), there were six
characters
: Samantha Parkington 1904, Kirsten Larson 1854, Molly McIntire 1944
all three released 1986,
Felicity Merriman 1774
released 1990
, Addy Walker 1864
released 1993
, and Josefina Montoya 1824*
released 1997.
Each one had a six-book
series
covering about two years in their lives: Meet ___ [An American Girl], ___ Learns A Lesson [A School Story], ___'s Surprise [A Christmas Story**], Happy Birthday, ___! [A Springtime Story], ___ Saves the Day [A Summer Story], and Changes for ___ [A Winter Story]. Their
collections
were closely linked to the stories, so much that each of them followed a predictable pattern (for instance, every character received a doll of their own in the Christmas book, and interacted with a pet in the Birthday book). I have created a
chart
showing the parallel format of the Original Six dolls and their collections.
*Every "Meet" book took place in late summer/early fall of a year ending in "4". School and Holiday books took place later that year, while Birthday and Summer books took place in Spring and Summer, respectively, of the next year, ending in "5". Winter books either took place near the end of the same "5" year (such as Changes for Addy in December 1865) or the beginning of the next year (like Changes for Molly in March 1946).
**All of the original six characters--plus the seventh, Kit, celebrated Christmas. With Julie (who celebrates Chinese New Year with her friend Ivy, as well as Christmas) and Rebecca (who celebrates Hanukkah), the third books were generally referred to as Holiday Books. However, all of this happened after the Mattel takeover in 1998.